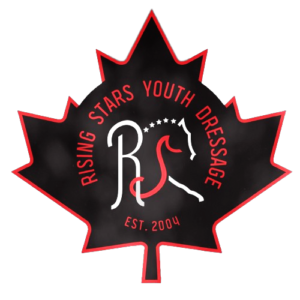 EMBARK ON A STELLAR JOURNEY WITH RISING STARS YOUTH DRESSAGE
Preparation Progress Performance
With over 20 years of experience, we understand the unique challenges and rewards that come from working with youth Dressage riders.  Dressage has a dedicated community of trainers, coaches, judges and volunteers that have a passion for helping youth riders develop their skills and achieve their goals.
Dressage youth development programs are the future and with your help, we will continue to build these programs for our Dressage youth across Canada.
Whether you're already involved in youth dressage as a rider, coach, judge, show organizer, or family supporter, or if you're just curious about this amazing sport, we invite you to join us on our journey. Our mission is to support and inspire the next generation of equestrians, and to help dressage continue to thrive in Canada and beyond. So let's saddle up, and ride towards a bright and exciting future for youth dressage!
Elevate your equitation skills to the next level!  Whether you're a beginner or an experienced rider, there are dedicated Dressage coaches and trainers who can help you unlock your full potential and achieve your goals.
Did you know that coaches are the keystone of youth dressage rider development? Working with a coach to improve equitation skills is the pathway to better performance. Got ideas on how coaches can support the growth of youth dressage?   Coaches! We are all ears …how can we help?
Explore our resources page to learn more about Rising Stars Youth Dressage and the Equitation program.  Support Dressage youth development by offering the Rising Stars Equitation program or a Rising Stars Youth Dressage division at your show.
Judges play an essential role in dressage youth rider development.  By evaluating rider equitation, they answer the question "How am I doing?" Get in touch to learn more about judging Rising Stars equitation.   Need equitation education opportunities?  Let us know!
We are always looking for new opportunities to collaborate with like-minded organizations and individuals who share our passion for youth Dressage.  If you are interested in partnering with us or sponsorship, please get in touch.
For Supporting Youth Dressage Riders
We acknowledge the endless volunteer hours given by so many, including family and friends, to our Youth Dressage Riders and the Rising Stars Equitation Program! We cannot encourage you enough to keep supporting our Youth Dressage Riders. They are the future in our wonderful equestrian sport of Dressage.
Interested in Helping youth riders?
Ready to Level-up your
Skills?
Participate in the Rising Stars Equitation program and elevate your equitation skills to the next level! Whether you're a beginner or an experienced rider, a dedicated coach can help you unlock your full rider potential.
Let's work together! Whether you are an organizer, coach, judge, rider, volunteer, sponsor, or partner, we want to work with you to build Dressage Youth Development programs. Have ideas? We want to hear from you!
We'd love to hear from you
We will get back to you as soon as possible with answers to your questions and feedback on your suggestions.
Email
rivndell@smartt.email
wkchristoff@gmail.com